Despite the upheaval of 2020, Jan Tonkin sees a bright future for business events in Tāmaki Makaurau Auckland, as the sector finds new ways to help people connect and collaborate in a COVID-19 world. 
"Auckland as a conference destination has always offered a great deal and it increasingly has infrastructure that's well suited to conferencing and fantastic precincts for delegates to experience. Now, we've developed our capability to bring people together when in-person gatherings aren't always possible."
Jan is the founder of The Conference Company. Since opening its doors in 1990, it has become one of Australasia's premiere meeting and events planning businesses. As well as bringing people together for conferences, exhibitions, and symposia, it manages international conference bids and awards.
The Conference Company brings a diverse range of events to Auckland, including the Goodfellow Symposium for primary healthcare professionals, which it has managed for the past 12 years; the International Board on Books for Young People (IBBY), held with the local Storylines Festival celebrating Kiwi authors; and the Asian Patent Attorneys Association Conference, which included an excursion day introducing 1350 participants to Tāmaki Makaurau and beyond through 27 tours.
Jan says when New Zealand closed its border due to COVID-19 and went into the initial Alert Level Four lockdown, the terrain in which The Conference Company operates changed significantly.
"At the beginning of the year, when COVID-19 restrictions came in, it was about cancelling and postponing conferences – changing from the face-to-face environment we usually work in. That meant a loss of business and disestablishment of some roles, which was really tough as we had very good people leave us."
However, Jan explains the initial lockdown provided the opportunity for the business to do something it had been watching for some time, which would enable it to continue operating through the pandemic's ongoing impacts – hybrid conferences.
"A hybrid conference can take several forms, but underpinning it is an audience coming together in-person and connecting with a remote audience using technology. The remote audience can have one or multiple locations with people gathering in-person."
Jan says while hybrid conferences offer an excellent solution for events impacted by border closures and shifting levels of restriction, clients have been both curious and cautious about the offering.
"Clients have been really intrigued about hybrid conferences and what they can offer but have also needed assurance the model has merit, that hybrid events will run smoothly, and that attendees will sign up. So, there's been a bit of anxiety, but also a lot of interest in what the possibilities are."
While The Conference Company has always used technology to run events, Jan says the move to hybrid conferences has seen the business stretch its thinking to find new and better ways to deliver conferences.
"It's not just about how to make the technology work flawlessly – it's also about coaching and rehearsing speakers and conveying to attendees how to get the best out of a hybrid event experience." Jan says it has been a swift learning curve and she's extremely proud of her team.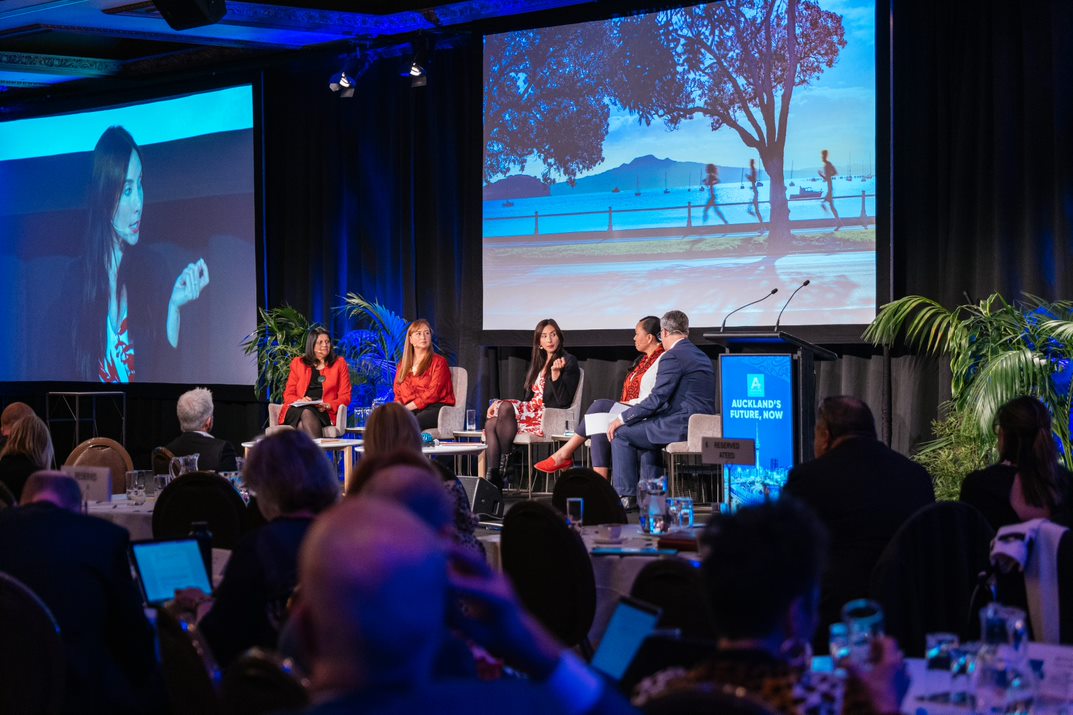 "The real reward around hybrid conferences has been seeing the team upskill. They've really immersed themselves in the format, learned how to use a virtual platform, embraced slightly different roles, and just gone all out to make a new normal work." 
In mid-May, research commissioned by Tourism New Zealand into the outlook for business events revealed 86 per cent of respondents believed in-person conferences are still vital for business. This view is shared by Jan, who believes that while hybrid conferences will offer benefits and opportunities through COVID-19 and beyond, there will always be a place for in-person events. 
I've always been confident about the business events sector in Auckland and even more so now because we all want to connect and collaborate for the greater good. Business events will continue to thrive if they are engaging experiences that help facilitate knowledge sharing, learning and results.
"ATEED's Auckland's Future, Now event is a recent example of collaborating for a positive outcome. It brought together a group of subject matter experts who shared their stories, their learnings, and their ideas, in a style that had everybody talking and contributing towards an action plan for Auckland's recovery from COVID-19." 
Jan says business events in Auckland make a significant contribution to the region's economy but that's only part of the story. 
"Business events bring the talents of Aucklanders to life. They showcase the skills our people have across a wide range of fields and professions and more importantly, introduce our people to the world."  
First image not promoted
1
Number of Images
3