Wine Grenade, established in 2014, has developed a portable micro-oxygenation device (the grenade) that gives winemakers more control and flexibility in maturing their wines.
Wine Grenade's patented oxygen diffusion process allows the reds, from Cabernet Sauvignon to Pinot Noir, to be matured in stainless steel tanks rather than in oak barrels, and significantly reduces costs.
The grenade, which connects to the cloud via a winery's WiFi network, delivers a precisely controlled amount of oxygen – usually around 2 milligrams per litre of wine per month – in a tank to replicate the traditional barrel ageing process. 'Our approach differs from other micro-oxygenation technologies in that it remains true to the molecular osmosis that happens during oak barrel maturation,' says Wine Grenade chief executive, Hamish Elmslie.
'Our moving semi-permeable membrane (tube) delivers constant oxygen treatment to a greater cross-section of each tank - providing winemakers with consistency in their ageing programmes.'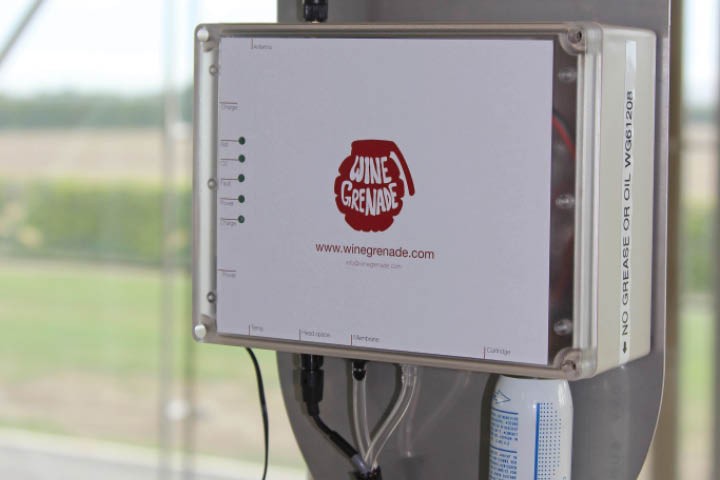 A simple and affordable solution
The grenade, which is situated at the top of each tank of wine, is made up of 110 individual components – including a pressure regulator, micro-controller, solenoid valve, sensors and a replaceable oxygen cartridge that lasts around one month.
The device downloads the required settings for the winemaker's maturation programme via WiFi, and the sensors take readings of wine temperature, pressure levels and other factors to ensure the process is running smoothly.
'We have taken a complex process and made it simple by developing an easy-to-use and affordable solution that is accessible to wineries of all sizes,' says Elmslie. 'The grenade can oxygenate large volumes of wine, and already we have seen customers in Australia and United States grow their production by deploying our technology.'
Maturing wine in an oak barrel can add up to $1.50 to the price of a bottle of wine. Wine Grenade's cost is 4-8c per bottle. 'For wines sold under $20, winemakers are looking for alternative ways to get a great quality product to their customers - our process provides a huge advantage in doing that,' says Elmslie.  
Looking back, I think of the speed we were able to achieve to move from our first prototype to international validation and manufacturing at scale – it's happened incredibly quickly. "
---
Two years of R&D before exporting
Wine Grenade, which won the Velocity $100k Challenge in 2014, spent the first two years on research and development (R&D) before going commercial in 2017. The company was started by five Master of Commercialisation and Entrepreneurship graduates, Elmslie, Jonathan Boswell, Philip Cockrell, Jorg Kampschreur and Mike Moore, and they worked with Plant and Food Research to find other uses for Plant and Food's device that released ethylene gas to ripen bananas while in transit in shipping containers. The Plant and Food technology enabled the low release of the gas over an extended period of time.
After studying more than 30 possible applications, the Wine Grenade team settled on the wine industry. 'It took us eight months to produce the first working prototype and we completed a three-month proof-of-concept trial in Hawke's Bay in 2015. That was followed by a nine-month commercial trial in the United States during 2016,' says Elmslie.
Wine Grenade has exported its micro-oxygenation devices to Australia, United States, Canada, France, Spain and Belgium, and is planning new business in Chile, Argentina and South Africa.
Wine Grenade has supplied devices to Montpellier and Toulouse in France and it plans to expand into the famous Bordeaux region early in 2018. 'The French are already familiar with the role that oxygen plays in wine maturation and we have had a good response from them to our technology – better than anticipated,' says Elmslie.
There are also prospects in the spirits business – Wine Grenade's device is soon to be trialled in the production of tequila in Mexico.