Stormwater 360, established in 1996 and based at Rosedale, is a world leader for stormwater management and green infrastructure solutions. 
Its founders Mike Hannah and Greg Yeoman have moved to Toronto and are applying their new technology to eliminate plastic and other waste going into the Great Lakes – the biggest area of freshwater lakes in the world.
As much as 10 million kilograms of plastic enter the lakes from both the United States and Canada yearly. It's estimated that each year eight million metric tonnes of plastic end up in the oceans and this amount if expected to double by 2025 – or the equivalent of 10 grocery plastic bags per foot of the world's coastline.
Of their move to Canada, Hannah says: "For us to realise our dream and help put an end to this (pollution) problem, we need to put what we do in front of as many people as possible."
The New Zealand operations will continue while the founders are away. Stormwater 360 invents and applies products which stops plastic and other waste from discharging into the waterways by catching the pollutants at the drain level.
It first developed the Enviropod, a metal filtration device that is inserted in a catchpit of the stormwater system. The Enviropod has been superceded by the lighter and more flexible `basket in the drain', the LittaTrap.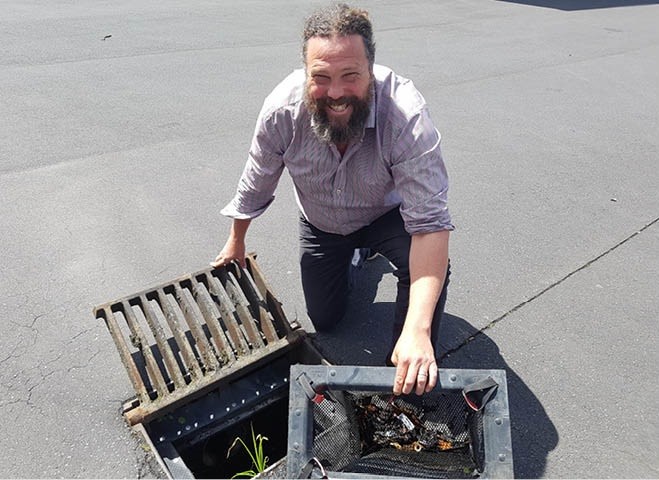 Stormwater 360's latest technology earned them the inaugural innovation award from the Water New Zealand Stormwater Group. The company also won the Innovation in Sustainability and CleanTech category at the 2016 New Zealand Innovation awards. 
Stormwater 360 will be installing the LittaTraps in the drainage systems that eventually lead to the Great Lakes. The company has more than 5000 litter-catching devices throughout Auckland, including LittaTraps at Wynyard Quarters. 
It has worked with many businesses to reduce waste including Sanford (owner of the Auckland Fish Market), Fonterra, Auckland Transport and retail chain Farro Fresh.
Stormwater360 has been manufacturing its products under licence in Australia and in New Zealand it operates through resellers Hynds Pipe Systems and Humes Pipeline Systems.
Stormwater360 success stories
Strong portfolio of products
Over the years Stormwater360 has invested heavily in research and development – with the support of Auckland Tourism, Events and Economic Development (ATEED) and Callaghan Innovation – and has now created a portfolio of 15 products from storm filters to green roofs. Between 2013 and 2016 Stormwater360's turnover doubled and staff numbers increased from nine to 15.
Among its exciting products are the LittaTrap™, a variation to the Enviropod®, and Filterra bioretention system with its specially designed filter media mixture. The engineered Filterra device works as efficiently as a raingarden but takes up less space and is installed in urban landscaped areas such as streets, parking lots and motorways.
ATEED supported us by organising funding and expertise so we could implement our business plan."
---
Hannah says five to 10 per cent of the turnover has gone into research and development each year and "now we have to convert the new technology, such as LittaTrap™ and Filterra, into growing our exports globally."