Agritech businesses in Tāmaki Makaurau Auckland are tackling industry challenges head on, to make a difference for farmers and growers who are facing the big issues.
Hectre, Cropsy and WayBeyond are three businesses who have developed and commercialised solutions to work alongside traditional practices, automate tasks, and capture data, adapt agriculture systems to reflect climate change, and feed the demands of the world's growing population.
Taking automation into the fields
Hectre
Matty Blomfield, an alumnus of the University of Auckland, co-founded Hectre in 2016 after hearing about the daily struggles that fruit growers faced. The company's orchard management and fruit sizing software provide meaningful real-time data on harvest yields, labour performance, fruit size and quality control. This helps growers and packers achieve efficiency, plan successfully and gain optimal prices for their fruit.
Hectre's blend of high intelligence and simplicity ensures quick uptake while delivering value and return on investment (ROI). Orchardists can print on-the-spot, waterproof bin tickets (displaying origin data), which vastly reduces paperwork. Geo-tagging of tickets means the fruit can be traced back to within yards of where it was picked; and labour tracking which includes auto-calculation of pay rates, simplifies payroll updates significantly. Growers can capture real-time data on the progress of harvest, as well as identifying poor picker performance early in order to address it.
Using just a standard iPad, Hectre's computer vision AI mobile fruit sizing solution Spectre Hand-Held sizes fruit within seconds, with accuracy rates of more than 95 per cent. Apples, pears, cherries, lemons, mandarins and oranges are all covered so far, with more fruit types in development.
In response to demand, Hectre recently released Spectre Top Down to the enterprise market. This is a solution that can size up to 5000 pieces of fruit straight off the top of trucks. This innovation focus has seen Hectre become the global category leader for mobile fruit sizing.
Hectre's customers now include premier fruit enterprises such as Sage Fruit, Washington Fruit & Produce, Rockit Global, BC Tree Fruits and First Fresh NZ. Such has been the interest in Hectre that its capital raise in 2021 was heavily oversubscribed. New investors in that round included the Borton family (of Borton Fruit in Washington state).
"Hectre is building the tools and data sets that we hope to utilise on our farms tomorrow. This modernisation, paired with amazing scalability, is a rare combination in the agritech space," says Chief Visionary Officer at Borton Fruit, Byron Borton.
Hectre will offer a Series A funding round at the end of 2023. Meanwhile, the company has scooped wins at the annual AgTech Breakthrough Awards in 2021 and 2022, and at the 2023 Asia-Pacific Stevie Awards, where it took double gold.
Cropsy Technologies
Cropsy Technologies uses artificial intelligence to monitor high-value crops at scale. Its technology operates with machinery that is already on-farm, so that every time a grower passes a plant to mow or trim, the plant's profile is updated. This provides insights to aid growing practices. Cropsy Co-founder Leila Deljkovic says they have developed a novel hardware system.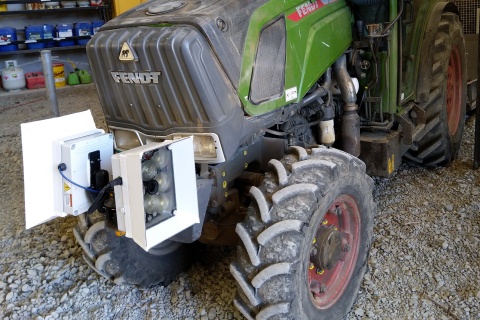 "We put eyes and brains on tractors, so growers can do all their normal jobs without any disruption and unlock masses of crop data with no extra work. The system captures high-quality images and processes them in real time using artificial intelligence. The insights are then pushed to our web app so growers can see a digital twin of their crop; this includes maps, dashboards and reports to assist in decision-making."
Cropsy has received grants and a loan from Callaghan Innovation, as well as grant funding from the Ministry of Primary Industries (MPI) and the Agricultural and Marketing Research and Development Trust (AGMARDT). It has a capital raise in progress now, after closing a seed capital raise for NZ$1.5 million in 2022. With the added benefit of NZ$700k recent funding from MPI and AGMARDT, Cropsy will now begin a two-year project on vineyard land utility and productivity.
Adapting farming to cut emissions and boost resilience
Leila Deljkovic says Cropsy's technology also aids resilience. One of the data streams it provides enables early detection of diseases, so viticulturists can target their vines and reduce the spread of infection. By gathering year-round information on every plant, from pruning to flowering and pre-harvest, Cropsy can analyse the impact of the grower's actions.
"The goal is for Cropsy to make recommendations on what growers should do to get the best outcomes, and even forecast crop performance or disease pressure before an outbreak happens. This is transformational, particularly because the way we grow fruit and crops today is going to be very different in five, ten, fifteen years' time. The changing climate is going to keep putting immense pressure on growers all over the world, and Cropsy is providing the tools to overcome these new challenges."
WayBeyond
WayBeyond uses sensors and an app for a phone or tablet to deliver precision agriculture. It applies AI in what it calls "controlled agricultural environments" to improve yield and quality with data capture, farm management and prediction tools. It urges growers to get involved in using technology to solve their issues. The company appreciates that not everyone is ready to manage growing practices using AI, and some farmers might just be starting to gather data, so WayBeyond offers a wide range of options.
WayBeyond's wireless sensors collect six climate readings, plus plant temperature and moisture, for improved crop health monitoring. Growers can then get a better understanding of the effects of climate on their crops. Separately, the app collects plant measurements and pest and disease data so that plant health can be well managed. WayBeyond's farm and data management platform combines information from the two sources to provide analysis and recommendations.
Feeding the world
A World Resources Institute (WRI) report states that global food production would have to increase by 50 per cent to feed the world's 10 billion people in 2050. This is where it gets really interesting. WayBeyond can provide AI agronomy insights to predict crop yields. These calculations can then guide planning decisions and determine 'yield steering' actions to keep crops on track to the target output.  Steering the crop in this way enables harvested produce to match market demands – minimising underproduction or overproduction issues. This is the reason why BASF Venture Capital recently invested in WayBeyond as part of a syndicated round.
WayBeyond Global Sales Director Lotte Bayly recently attended Fruit Logistica 2023 in Berlin, the world's leading trade fair for the fresh fruit and vegetable industry. She says despite the well-known issues facing growers, the atmosphere was positive.
"WayBeyond's solutions are really attractive to the larger enterprise-scale growers who operate in regions where either the infrastructure doesn't allow for full automation, or the sheer size means automation isn't viable,"
WayBeyond emerged from Darryn Keiller's company Autogrow and launched in 2021. Now with a head office in San Francisco and satellite offices in New Zealand and Mexico, this business is working with growers globally to help feed the world's ever-increasing population.
Find out more
Contact Yan Zhang to learn more about investment opportunities in agritech in Tāmaki Makaurau Auckland, New Zealand.
DISCLAIMER: This article provides general information on potential investment opportunities in Auckland and is not intended to be used as a substitute for financial advice. The views and opinions expressed are those of the relevant author, and do not necessarily reflect the views of Tātaki Auckland Unlimited. Tātaki Auckland Unlimited disclaims all liability in connection with any action that may be taken in reliance of this article, and for any error, deficiency, flaw or omission contained in it.