Continuing our overview of the cleantech sector, we talked with four pioneering companies that are surging forward from successful investment rounds.
Part two of our series on the cleantech sector looks at e-waste recycler Mint Innovation, solar energy developer Sunergise, carbon recycler LanzaTech, and e-engine developer ZeroJet. All have their roots in Tāmaki Makaurau Auckland, and all are working towards a cleaner and more sustainable world.
Mint Innovation: Harvesting clean value from e-waste
Founded in 2016, Mint Innovation uses natural biomass and smart chemistry to extract valuable metals, such as gold, silver, copper and tin, from printed circuit boards and other e-waste in an environmentally responsible and cost-effective manner.
The Auckland company's proprietary process was designed to work at city scale, for use in any urban areas where e-waste is generated. However, it is able to scale on a low-cost, fast-to-commission basis. CEO Dr Will Barker points out that the company seeks to locate its plant as close to the waste-producing source as possible, in a 'local, low-cost, low-carbon' solution.
Following successful pilot projects in New Zealand, Mint opened its first commercial-scale biorefinery in Sydney in 2022. It now has its eye on the United Kingdom, United States and Europe, as well as markets such as Taiwan and China (where companies like Apple source its hardware manufacturing) and Vietnam, where Samsung makes its smartphones).
Big Tech is looking for circular solutions, and we are able to provide that, along with valuable metrics, says Barker.
He adds, "Public policy framework has provided New Zealand cleantech companies like ours with a tailwind of support for commercial deployment internationally. Agreements like the Basel Convention ban exports of hazardous materials, including e-waste. Often local legislation bans depositing e-waste in landfills. These foster an in-country, in-municipality solution for manufacturers. Governments are also adopting product stewardship levies, which, when applied to end-of-life e-waste processes, further incentivise the 'reduce and recapture' ethos Mint Innovation is facilitating."
Investment and other support has come from private investors in New Zealand, Australia and the US. This year, Mint closed an NZ$60 million Series C investment round led by Inspire Impact, the impact investing arm of Australian-based firm Liverpool Partners.  Other investors included local venture firm Movac and New Zealand family office K1W1.
Barker notes that "Auckland and New Zealand do 'community' well. Ecosystems fostered by the likes of Callaghan Innovation, Tātaki Auckland Unlimited and the Riddett Institute show the scope of partners and domains where New Zealand has world-class depth. International partnerships will help bring this together for Auckland cleantech.
Our next level of expansion will benefit from and appeal to strategic investors like infrastructure and property firms with strong local waste management partners, adds Barker, who has 15-plus years of experience working with offshore cleantech investors.
Visit Mint Innovation to find out more.
Sunergise: Harnessing the sun's power for a brighter future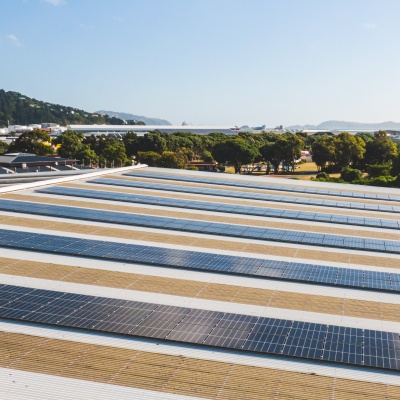 Founded in 2012, Sunergise New Zealand has become a leader in the solar industry in New Zealand and the Pacific Islands, helping clients transition to a more sustainable and economically reliable energy future. In the process, this also helps protect unique marine and land ecosystems.
Sunergise offers a full range of photovoltaic (PV) solar energy solutions, from design and installation to maintenance and monitoring. It has completed a number of high-profile projects in the Pacific Islands, including the Tongatapu Solar Farm on Tonga. Capable of producing 6.9MWp of renewable power, it will offset almost 20 per cent of Tongatapu's current diesel-powered generation. Other installations include a 6.5MW solar farm in Fiji and a 1.5MW rooftop solar installation in Samoa. In New Zealand, Sunergise technology powers the capital's iconic Parliament House, among other sites.
Sunergise's investors include the World Bank's International Finance Corporation and strategic investor Todd Corporation, one of New Zealand's largest family-owned businesses.
Visit the Sunergise website to find out more.
LanzaTech: Rethinking carbon, for smaller footprints all round
Auckland-born and now headquartered in Illinois, LanzaTech (Nasdaq: LNZA) is changing the way the world perceives carbon. In fact, it has been a pioneer in New Zealand and the US of a new circular economy where carbon is reused rather than wasted. Founded in 2005 by Dr Sean Simpson, the company has developed a unique gas fermentation technology that converts carbon-rich industrial waste gases into sustainable biofuels (such as ethanol), fabrics, packaging and other products, all of which helps its customers reduce greenhouse gas emissions.
LanzaTech's technology has been deployed in the steel manufacturing, chemical production and waste management sectors, among others. It also partners with major aviation corporations, including United Airlines, which has committed to purchasing LanzaTech's sustainable aviation fuel (SAF) to help reduce its carbon footprint. In June 2023, Air New Zealand and Ministry of Business, Innovation and Employment (MBIE) announced a pilot scheme in which LanzaTech will trial the production of SAF using mainly waste products from New Zealand forestry.
The company is led by CEO Dr Jennifer Holmgren, a Honeywell renewables alumna, who notes,
It is key that we at LanzaTech demonstrate social responsibility and true leadership in supporting a circular bioeconomy.
LanzaTech alumni have also gone on to start other cleantech companies in New Zealand, such as Mint Innovation and Avertana, contributing to the company's founding vision of a local centre of bioprocessing excellence. The company was named one of the World Economic Forum's Technology Pioneers in 2012, and received the 2015 US Presidential Greener Synthetic Pathways Award.
LanzaTech has raised over US$860 million in investment at the time of writing. Originally funded by Auckland family office K1W1 and Khosla Ventures, the company raised US$72 million Series E in 2020. Led by new investors Suncor Energy of Canada and Mitsui & Co. of Japan, the round also included participation from existing investors Breakthrough Energy Ventures, Prelude Ventures, and Lowercarbon Capital. On the public side, the company has partnered with the US Department of Energy, the National Renewable Energy Laboratory, and the US Environmental Protection Agency, and has received funding from the governments of New Zealand, the European Union and Japan to support its research and development activities.
Visit the LanzaTech website to find out more.
ZeroJet: Making waves with zero-emission propulsion
ZeroJet is bringing cleantech to the worldwide recreational watercraft industry while helping reduce the water, noise and air pollution associated with two-stroke and other fossil fuel marine engines. The company's "audacious" goal is to replace combustion engines on small watercraft with electric jet propulsion. Founded in Auckland in 2015 by Bex Rempel and Neil Mans as Voltaic Jetboards, the company originally designed and built the world's fastest electric jet board, before pivoting to focus purely on electric jet systems for boats and rebranding to ZeroJet.
ZeroJet's unique electric jet propulsion system produces zero combustion emissions and is world-class, with a low-voltage motor giving more power per kg than any off-the-shelf motor, and a bespoke jet pump which is efficient at both lower and higher speeds. Rempel notes that
Taking one 25-horsepower outboard off the water is the equivalent of taking up to 150 cars off the road.
The company aims to replace 10,000 petrol-powered outboards with its electric technology over the next five years – reducing emissions equivalent to 1.5 million cars.
New Zealand has a first-class boat design ecosystem which has given the world designers such as Bruce Farr and Laurie Davidson, as well as a number of America's Cup and Whitbread Round the World Race winners. Proximity to on-the-water as well as in-the-lab prototyping expertise means that ZeroJet can help its partners get to market sooner. Currently the company is teaming up with Offshore Cruising Tenders (OCT) to build carbon and fibreglass tenders powered by the JeroJet 48 V motor.
ZeroJet's expansion strategy calls for partnering with more boatbuilders, locally and internationally. With support from Callaghan Innovation, alongside Tātaki Auckland Unlimited, the company is also developing systems for larger five-metre and six-metre tenders. Funded by NZ VC leader Movac, sovereign wealth fund NZ Growth Capital Partners, family office K1W1 and Australian VC Investible, the company closed its Series A in mid-2022 to support new product and market development. In July 2023, from a pool of more than 50 contenders, ZeroJet won the New Zealand Hi-Tech Start-up Company of the Year Award.
Visit the ZeroJet website to find out more.
Contact our team to learn more about investment opportunities in cleantech in Tāmaki Makaurau Auckland, New Zealand.