With nature on its doorstep, Tāmaki Makaurau Auckland is an international, innovative city that fosters work-life balance. For those wishing to relocate staff to another time zone for 24-hour operations, or seeking to invest and make a new home here, it has a lot to offer.
Surrounded by outstanding natural beauty, Auckland is a welcoming home for all who visit or stay. The city is uniquely positioned between three harbours, and the region as a whole features multiple maunga (mountains), ranges, beaches, reserves and lakes.
These qualities long attracted Māori, making it one of the most densely populated and contested parts of Aotearoa well before Pākehā (New Zealanders of European descent) arrived. Hence the name Tāmaki Makaurau, which loosely translates as "the place desired by many".
Auckland's blue and green attractions, as they're known, are right on its doorstep. From the sailing paradise of the Hauraki Gulf and its many islands to the extinct volcanic cones that pepper the city skyline, the golden sands of the eastern bays, and the forested hills and black sand surf beaches in the west, residents have a myriad of places to relax and unwind outdoors.
Worldwide surveys confirm Auckland's profile as a great place to live. The city was ranked by the Economist Intelligence Unit (EIU) in March 2021 as the world's most liveable city, and by HR firm Mercer in 2019 as having the third best quality of living globally.
A harbour playground sheltered by islands
The Hauraki Gulf Marine Park covers more than 1.2 million hectares and is dotted with islands. Many can be visited by harbour cruises, and boating, sailing, fishing, diving and kayaking are all popular.
Waiheke, 40 minutes by ferry from Auckland's CBD, is one of the largest islands in the Gulf, known for its vineyards, restaurants and beaches. A brief plane hop to the north is Aotea Great Barrier Island, with a small permanent population and many holiday homes, and pristine wildlife areas managed by the Department of Conservation.
The bird sanctuary Tiritiri Matangi is only 30 minutes by ferry from the CBD. Some of the smaller islands – such as Rakino, Motutapu, Motuora and Rotoroa Island – have camping grounds, as well as private homes to rent for weekends and holidays.
Rangitoto is Auckland's most recognisable island, with its distinctive symmetrical cone. A short ferry ride away, it is a favourite destination for hikers and day trippers, with outstanding views of the Gulf from its old lava flows.
28 regional parks within the city boundaries for hikers and day trippers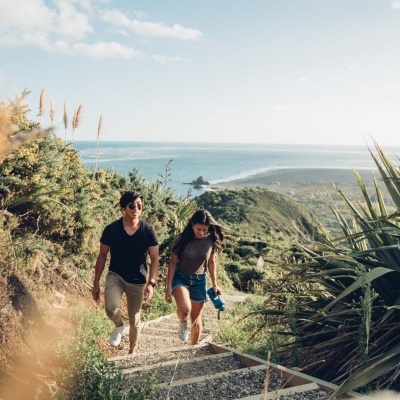 Tramping and forest walking are also within easy reach on Auckland's coasts. To the west, the Waitākere Ranges are home to native forests, waterfalls and black sand surf beaches.
To the east, the Hunua Ranges is Auckland's largest forested terrain, with 14,000 hectares of native bush and some rare and unusual wildlife. Bordering the Firth of Thames, this regional park is a gateway to the nearby Coromandel Peninsula, with its historic goldmining settlements, bush walks and Pacific Ocean beaches.
Altogether, there are 28 regional parks within the city boundaries. Others include Duder in the south, and Tāwharanui and Shakespear to the north. Urban List outlines its top ten park picks.
Yet residents don't need to go to the city edges to find peaceful, quiet and natural spaces. Trees make Tāmaki Makaurau Auckland a leafy city, and large public parks abound. These include Auckland Domain, Albert Park, One Tree Hill Domain, Cornwall Park, Bastion Point, Western Springs, Maungawhau Mount Eden, Maungarei Mount Wellington, and many more.
Swimming opportunities surround the city
Many recreation areas are coastal, as attractive to beachgoers as they are to walkers. But you don't have to go far from the suburbs to find excellent swimming spots.
Early-morning bathers are a common sight on the North Shore at Devonport and Takapuna, and in the eastern suburbs of Ōrākei, Mission Bay and Kohimarama. An hour north, Matheson's Bay residents take to the water most mornings, and the Cape Rodney–Okakari Point Marine Reserve (Goat Island), with its stunning protected sea life, is best enjoyed with a snorkel and mask.
Auckland's parks and marine reserves can be reached by private car or public transport, often in less than an hour, providing almost instant recreation. And it's reported that naturally beautiful environments like these give rise to more active forms of relaxation, such as running and cycling.&
Auckland is developing a growing network of shared paths, on roads and protected cycle lanes and quiet routes. Cycleways and walking routes connect suburban centres, public transport, schools and places of work.
The city boasts fantastic rides, from family-friendly and leisure riding, to fitness, commuting and cycle touring. You can pedal around the eastern bays, ride the boardwalk around the Ōrewa estuary, or zoom from Auckland's west into town and back again on the rainbow path.
Green spaces enhance your well-being and productivity
There's hard evidence that time spent in and near nature is good for humans, both mentally and physically, nurturing our mental health and reducing stress. A report by the Nature Conservancy, a global environmental non-profit, found that natural environments integrated within urban areas can stimulate local economic growth by making commercial spaces more appealing. Such amenities can also give cities a competitive edge by attracting a highly skilled, creative and productive workforce.
Businesses are increasingly aware of the desire among employees for access to green spaces, especially post-Covid. Auckland has these spaces in abundance.
Tāmaki Makaurau Auckland, a city like no other
Auckland's natural beauty is a major reason why people from around the world want to live and work in the city. It's a great place to establish or relocate a business and/or a family, and to attract talent – especially in the current climate, where employees are increasingly in pursuit of well-being and a healthy lifestyle.
Tāmaki Makaurau Auckland's inhabitants themselves recognise they live in an environment like no other. A recent survey found 82 per cent of Aucklanders rate their overall quality of life positively. Tāmaki Makaurau certainly is "the place desired by many".
Another, more subtle reason why Aucklanders rate their quality of life so highly is that the city's amazing location provides access to an incredible hinterland.
City workers can easily get away for an afternoon break, a day trip or a long weekend. Drive 340 km south to Ruapehu for skiing or to tramp the Tongariro Crossing; head 160 km to the east and you can dive for rock lobster on the Coromandel Peninsula.
There's big game fishing half a day's drive north in the Bay of Islands, and a plethora of caving, mountain biking, rafting and other outdoor activities all within easy reach in neighbouring Waikato.
You really don't have to go far beyond your doorstep to find natural beauty in Tāmaki Makaurau, and the peace and well-being that comes with it.
Find out more
Read more about settling in Auckland or speak with one of our consultants to find out more.
DISCLAIMER: This article provides general information on potential investment opportunities in Auckland and is not intended to be used as a substitute for financial advice. The views and opinions expressed are those of the relevant author, and do not necessarily reflect the views of Tātaki Auckland Unlimited. Tātaki Auckland Unlimited disclaims all liability in connection with any action that may be taken in reliance of this article, and for any error, deficiency, flaw or omission contained in it.